Boat of the Moment
Boat REF# 317206
£42,995.00
2x diesel 200hp
1989
10.30m
Plymouth Area
View Details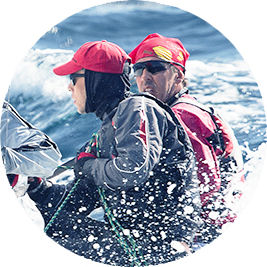 Selling your boat?
We take care of every step when it comes to selling your boat.
1
Your broker will advise you of the most suitable price to market your boat at.
2
Your broker will work with you to create a detailed listing for your boat.
3
We handle the negotiation process for you, ensuring you get the best deal.
Why Boatshed?
Boatshed is one of the world's largest yacht brokerage groups that prides itself on giving potential buyers the most complete and accurate picture of the boat that they want to buy.

Boatshed Brokers personally visit every boat that they list, taking unlimited photographs and videos which are available online to registered users anywhere in the world.
Read more
Here's what our customers have to say...
Jason, a huge thanks for selling my boat. Your friendly manner and professional expertise really took the pressure off, and I am very happy with the outcome!
— Carrie Barker, Boatshed Plymouth
The documents arrived today. Many thanks for an easy and professional transaction and I will be happy to recommend yourselves to anyone I know looking for a boat etc.
— Killian, Fjord 30 buyer (March 2021), Boatshed Plymouth
Billy, thank you very much. We have been immensely impressed by the service you have provided and I would whole-heartedly recommend you to any other potential seller or purchaser. I hope not to be in the market for selling in the near future but if…
— Tom, Carter 33 Vendor (Jan 2021), Boatshed Plymouth
Thank you for your assistance. I really appreciate your efforts in selling Azora (part of the family), you did brilliantly! I hope that over the next 6 months you will find me another boat!
— Harvey, Morgan Giles 30 Vendor (October 2020), Boatshed Plymouth
Billy, I have much enjoyed our various discussions and I am very impressed with the way you and Jo operate your business. All good fortune to you both and if I hear of anyone looking for a Plymouth based agent you will certainly be recommended.
— Peter, Nicholson 32 Vendor (Oct 2020), Boatshed Plymouth
All arrived safely. Great boat & great service from you and Boatshed.
— Sid, Beneteau Antares 760 Buyer (Oct 2020), Boatshed Plymouth